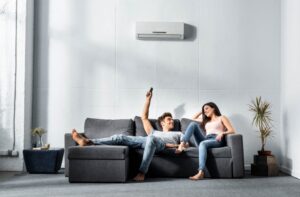 If you're in the market for a new air conditioner and have done some preliminary research, you might be flabbergasted by all the new terminology and systems that are available. The last time you shopped for a new AC might've been a decade ago, and since then, heat pumps have become very popular.
The name "heat pump" can be confusing to people searching for an air conditioner. A heat pump doesn't pump heat into your home. What it does is it extracts heat from the air (both in your home and outside) and "pumps" it either inside or outside. Let's explain so you'll know why a heat pump is a relevant search result when Googling air conditioner installation for your California home.
What Is a Heat Pump?
A heat pump is a two-in-one heating and cooling HVAC system. The easiest way to understand how heat pumps work is to realize that they use the same technology as air conditioners. However, a heat pump has a component called a reversing valve that also lets it work as a heater in the winter. When it's in cooling mode, it moves heat out of the home. When it's in heating mode, it moves heat back inside the home.
Heat pumps are available in both ductless and ducted configurations. The aptly named ductless heat pump (also known as mini splits) doesn't need ductwork to operate. A mini split system consists of indoor air handlers and one outside compressor. The handling units can be mounted on various walls or ceilings of your home.
Having multiple air handlers spread around your home provides amazing zone control. You'll be able to control the temperature in individual rooms rather than having to heat or cool your entire home! This makes them the perfect system for households where one person runs hot or cold compared to the rest of the family.
Why They're Ideal for California
Whether you choose a ductless or ducted system, heat pumps are perfect for areas with mild winters just like here in California. That's because heat pumps can suffer in efficiency when the temperatures drop below 40 degrees. That's not something that we have to worry about very often in Orange County. And because a heat pump is essentially an air conditioner, you don't have to worry about its performance as a cooling system.
The Eco-Friendly Option
When it comes to choosing a new HVAC system, heat pumps are an eco-friendly option. That's because they don't use gas or fossil fuels to run. They rely entirely on electricity. In fact, heat pumps reduce emissions across their lifetime by up to 90% compared to gas furnaces.
Saving energy also translates to saving money on your utility bills. And here in SoCal where you use your cooling system for the majority of the year, that savings can really add up.
When you choose Command Comfort, you can feel confident that you've found the best AC contractor to deliver unparalleled residential AC services.
Contact the team at Command Comfort today for heat pump installation in Huntington Beach, CA and the surrounding areas. Climate Control for Life.